Shopping Basket
Your Basket is Empty
There was an error with PayPal
Click here to try again
Thank you for your business!
You should receive an order confirmation from Paypal shortly.
Exit Shopping Basket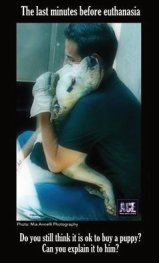 I think our society needs a huge "Wake-up" call. As a shelter manager, I am going to share a little insight with you all...a view from the inside if you will.First off, all of you breeders/sellers should be made to work in the "back" of an animal shelter for just one day. Maybe if you saw the life drain from a few sad, lost, confused eyes, you would change your mind about breeding and selling to people you don't even know.That puppy you just sold will most likely end up in my shelter when it's not a cute little puppy anymore. So how would you feel if you knew that there's about a 90% chance that dog will never walk out of the shelter it is going to be dumped at? Purebred or not! About 50% of all of the dogs that are "owner surrenders" or "strays", that come into my shelter are purebred dogs.The most common excuses I hear are; "We are moving and we can't take our dog (or cat)." Really? Where are you moving too that doesn't allow pets? Or they say "The dog got bigger than we thought it would". How big did you think a Great Dane would get? "We don't have time for her". Really? I work a 10-12 hour day and still have time for my 6 dogs! "She's tearing up our yard". How about making her a part of your family? They always tell me "We just don't want to have to stress about finding a place for her we know she'll get adopted, she's a good dog".Odds are your pet won't get adopted & how stressful do you think being in a shelter is? Well, let me tell you, your pet has 72 hours to find a new family from the moment you drop it off. Sometimes a little longer if the shelter isn't full and your dog manages to stay completely healthy. If it sniffles, it dies. Your pet will be confined to a small run/kennel in a room with about 25 other barking or crying animals. It will have to relieve itself where it eats and sleeps. It will be depressed and it will cry constantly for the family that abandoned it. If your pet is lucky, I will have enough volunteers in that day to take him/her for a walk. If I don't, your pet won't get any attention besides having a bowl of food slid under the kennel door and the waste sprayed out of its pen with a high-powered hose. If your dog is big, black or any of the "Bully" breeds (pit bull, rottie, mastiff, etc) it was pretty much dead when you walked it through the front door.Those dogs just don't get adopted. It doesn't matter how 'sweet' or 'well behaved' they are.If your dog doesn't get adopted within its 72 hours and the shelter is full, it will be destroyed. If the shelter isn't full and your dog is good enough, and of a desirable enough breed it may get a stay of execution, but not for long . Most dogs get very kennel protective after about a week and are destroyed for showing aggression. Even the sweetest dogs will turn in this environment. If your pet makes it over all of those hurdles chances are it will get kennel cough or an upper respiratory infection and will be destroyed because shelters just don't have the funds to pay for even a $100 treatment.Here's a little euthanasia 101 for those of you that have never witnessed a perfectly healthy, scared animal being "put-down".First, your pet will be taken from its kennel on a leash. They always look like they think they are going for a walk happy, wagging their tails. Until they get to "The Room", every one of them freaks out and puts on the brakes when we get to the door. It must smell like death or they can feel the sad souls that are left in there, it's strange, but it happens with every one of them. Your dog or cat will be restrained, held down by 1 or 2 vet techs depending on the size and how freaked out they are. Then a euthanasia tech or a vet will start the process. They will find a vein in the front leg and inject a lethal dose of the "pink stuff". Hopefully your pet doesn't panic from being restrained and jerk. I've seen the needles tear out of a leg and been covered with the resulting blood and been deafened by the yelps and screams. They all don't just "go to sleep", sometimes they spasm for a while, gasp for air and defecate on themselves.When it all ends, your pets corpse will be stacked like firewood in a large freezer in the back with all of the other animals that were killed waiting to be picked up like garbage. What happens next? Cremated? Taken to the dump? Rendered into pet food? You'll never know and it probably won't even cross your mind. It was just an animal and you can always buy another one, right?I hope that those of you that have read this are bawling your eyes out and can't get the pictures out of your head I deal with everyday on the way home from work.I hate my job, I hate that it exists & I hate that it will always be there unless you people make some changes and realize that the lives you are affecting go much farther than the pets you dump at a shelter.Between 9 and 11 MILLION animals die every year in shelters and only you can stop it. I do my best to save every life I can but rescues are always full, and there are more animals coming in everyday than there are homes.My point to all of this DON'T BREED OR BUY WHILE SHELTER PETS DIE!Hate me if you want to. The truth hurts and reality is what it is. I just hope I maybe changed one person's mind about breeding their dog, taking their loving pet to a shelter, or buying a dog. I hope that someone will walk into my shelter and say "I saw this and it made me want to adopt". THAT WOULD MAKE IT WORTH IT.~ Author unknown
My wakeup call was when I was visiting NYC. I was staying up around the 15th floor and one morning looking out the window I saw a large tractor trailer pass by....what caught my eye was there was no top to it but its colorful contents filled it to the brim. Fill to the brim with the bodies of dead dogs piled on top of one another and the colorful contents were all their beautiful colored coats. The truck to passersby on the street level blended in with the surrounding traffic so they went  about their business oblivious to the cargo contents of that truck winding its way to a final destination. If the truck would have been made of glass I'm certain there would have been a shocking outcry. But the sad part is that most folks just don't want to know what happens to all those animals that enter the shelter or how their food supply is obtained or how our oceans get polluted. This coming year make a difference in this world…. be informed, you are here for a reason.
How to Break Up a Dog Fight
Without Getting Bitten

Why do dogs fight?

Dogs fight for as many reasons as humans do. Sometimes dogs develop a particular antipathy to another dog. Sometimes, it's an expression of fear. Sometimes it's food, property, or owner guarding.

Some dogs, like some humans, are simply anti-social. Some dogs never initiate a fight, and some are provocateurs.

This article is not a treatise on dog aggression, dog psychology, or dog socialization.

This article is about what to do when dogs are in a fight - a real fight.

The editors of Dogs Today were not too eager for me to write this article. What if someone gets bitten?

Right.

Of course, people get bitten by dogs every day, and they often get bitten while trying to break up dog fights.

And why do they get bitten so often? Simple: they do not know how to break up a dog fight!

So apparently some instruction is needed, and instead of ignoring the issue, I am going to provide it.

I am going to start with the simple, move to the obvious, and finish with real instruction.


The Simple: Avoid Problems If You Can

Avoiding a dog fight is the best policy, and it's often easy to do.


:
If your dog is canine-aggressive, you should muzzle it when it is out on a walk. Read that sentence again. The idea that muzzles are cruel, or that it's OK to walk around town with a dog that is dog-aggressive, is absurd. Properly size modern mesh muzzles are easy to put on, weigh nothing, cost little, and are not a burden to the dog. If you have a canine-aggressive dog, stop walking around with your fingers crossed hoping that this time it will be all right. Take action and shoulder the responsibility.
. 
:
Dogs often display aggression when other dogs enter their property without invitation, when other dogs approach food they deem to be theirs, or when other dogs try to initiate uninvited contact with their owner or their owner's family. Leashes are another frequent problem area, as they impede canine body-language, and also telegraph an owner's tension and dysfunction down the leash. So what's the drill? Simple: as a general rule, never allow your dog to enter any other dog's yard or home without an invite. As a matter of principle, avoid having your leashed dog greet other unknown leashed dogs on the street. A basic rule is that new dogs should greet each other one-on-one, off-leash, on neutral ground, and without any food in evidence. An ideal location is a fenced tennis court or neutral yard.
.
.
Never walk a dog on a retractable leash, as no dog can be properly controlled using such a device. Instead, use a simple web leash, and teach your dog to sit and look to you every time it sees another dog. Praise and treat whenever this occurs, and always be ready to cross the street or change direction whenever a problem situation seems to be advancing towards you. When it comes to inter-canine aggression, problems avoided are often problems solved!

The Obvious: Don't Get Bitten!

A dog fight has broken out. Now what?

First and foremost, be sure you have clearly defined success in your own mind. Success is not getting bitten! Let me repeat that: The goal of this lesson is to NOT get bitten while breaking up a dog fight.

So how do you NOT get bitten? Simple:


.
In a fight, dogs will typically go for the neck and head region of the other dog. If you reach for your dog's collar in the middle of a fight, you will get seriously mauled. Reaching for a dog's collar is the number one reason people get bitten while trying to break up dog fights.

.
Just as a teenager in a fist fight will blindly swing on his own mother if she is foolish enough to step into the center of a brawl, so too will a dog bite its owner if he or she is foolish enough to step into the center of a canine melee. Do not put your body in harm's way and expect to not get bitten!

.
Never crouch down to pick up a dog in a fight as this action will put your face far too close to snapping jaws. If you try to pick up a dog in the middle of a fight, you are almost certain to get bitten for your efforts.

The Instruction: Work from the Rear

So now we come to it. What should you do to beak up a dog fight?

First of all, stop screaming.

Yes dog fights are violent, loud, disorganized and scary, but your job right now is to stay calm. You have a job to do and that job does NOT include yelling at the dogs. I assure you that two dogs in a serious fight will almost never stop fighting because they are being yelled at.

Instead of yelling, pay attention to what is going on, and approach the dogs in a calm but hyper-vigilant manner.

What you are looking for is that moment when one dog is on top of another, and you are able to reach in quickly, and without hesitation, to grab the top dog by the base of its tail and hoist its rear legs off the ground.

Yes, that's right - you are going to grab the top dog like a large laboratory rat and hoist its back legs off the ground.

With its back legs off the ground, this top dog will instantly lose its drive-train and it will no longer be able to power forward and bear down on the underdog. At the same time, this top dog's angle of bite and attack will have shifted dramatically. In every case, the combined change in drive and angle of attack will so surprise the top dog that it will release its grip.

When that happens (it may take a second or two), pull the top dog backward and begin to slowly swing it in gentle arc so that the dog now has to keep scrambling with its front paws in order to prevent itself from shouldering face-first into the dirt.

So long as you keep the dog's legs off the ground and keep moving it in an arc, the dog will have to keep scrambling to avoid falling over. You are in complete control and will remain in control so long as you hoist the dog's rear legs off the ground, and keep moving it in an arc.

What if the top dog has a docked tail? The procedure here is the same as above, only instead of grabbing the base of the top dog's tail, you grab the top dog under both thighs right where they meet the body. Again, you lift up the dog so that its back legs are completely free from the ground, and then you slowly step backward and start swinging the dog in a gentle arc so it that it has to keep scrambling along the ground with its front paws in order to remain upright.

What if you are small woman? Same thing. Even a small woman of relatively low strength can dead lift 40 or 50 pounds, provided she is not otherwise handicapped, and that is all the strength that is needed to lift up the rear legs of even a large dog. Don't believe it? Try it on your own dog in the safety of your backyard.

What about the other dog? Remember that the underdog was on the bottom, and most of the time this dog is now more than eager to break it off. With dogs, it's a bit like two teenagers in a fight - once the bigger guy has been pulled off by his mates, the smaller guy is generally only too happy to call it a day, even if there is still a little trash-talking after the fact. A deep-throated yell from you at this point (and not before) will generally seal the deal.

What now?

If you can get a leash on the dog that is in your hand, go ahead and do that. If the other dog is only barking, or is perhaps being picked up or leashed up by someone else, you are in a good position and in full control. Let cool rational thought creep into both dog's brains; it will not take long.

Over the years I have broken up quite a number of dog fights, often working alone, and my own experience is that throwing a dog into bushes, down a slope, into a river or pond, or over a fence often works to further "cool out" a large dog.

What if one or both dogs stop attacking each other and start attacking you?

I have never had this happen, nor have I ever known it to happen to anyone else, and I know quite a large number of dog men. I am not going to say it cannot ever happen (a meteor may destroy your house tonight), but when dogs fight, it's not an unfocused rage but a very focused emotion directed at the other dog. Dog fights are not about people, but about dogs.


So there is it. Now you know what NOT to do, and you now have the option of doing more than hose the blood off the sidewalk after the fact in case of a serious dog fight.

Will everybody be brave enough to step in when two dogs fight?

Of course not, nor am I saying everyone should.

But if you are the type that will step in, at least now you know the right way to go about it. That cannot hurt the dog, and it might save you some serious injury.

/